Garden studio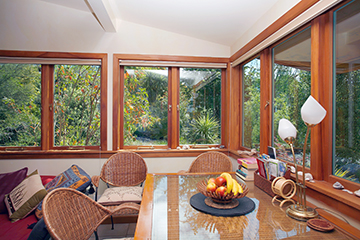 "Water gardens, lilies, native grasses, shrubs, trees and birds….. running water in unexpected streams and ponds … silence, solitude, regeneration of mind and spirit in beautifully designed accommodation empathically focused on natural wood fittings and furniture fashioned respect for the grain and shape of the timber itself."
What's not to like!
– Hetty V.
This spacious, purpose built log studio with grass roof is a unique find in the middle of town. Set in the gardens of one of Nelson's finest heritage villas, this open plan studio has a private deck, overlooking a pond with a small island that can be reached over a drawbridge.
Everything is provided for easy in – and outdoor living. Double glazed, slightly tinted windows and glass doors create an intimate and colourful connection with the gardens. The living area features under floor heating and a small log burner for those rare cool evenings. A few steps up from the lounge area and kitchen there is a sleeping area with one queen and one single Japanese futon.
The studio is well suited for long term stays since it has all the facilities one could need to be comfortable throughout all seasons and offers the type of peaceful surroundings ideal for a
retreat. No immediate need for a car also, all shops and restaurants are relatively close by.
Rates $ 195-255 – booking directly through this site rather than through one of our corporate affiliations is appreciated.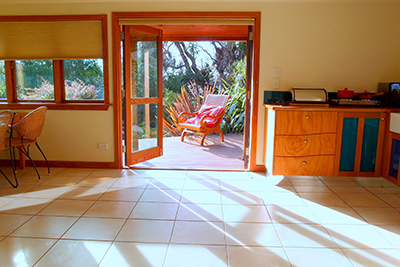 "We have visited many B&Bs here and overseas and this is right up
there with the best of them."
– Raoul.