Joya Garden & Villa Studios are located in a quiet, upmarket part of central Nelson close to the Grampian walkway, the Queen's Gardens, and the best of Nelson's restaurants and cafes. What's on offer:
The Garden Studio -a spacious log home with 'living roof' – situated in the gardens of this heritage home.
The Villa Studio a private ground-floor studio apartment that opens up to a sunny, secluded terrace
overlooking the gardens.
Both are open plan and fully self-contained and private and have onsite parking. An optional organic vegetarian breakfast -with vegan and gluten-free options- is served on the first floor of the main house, or on the deck with great views over the city and hilltops beyond.
The Den is on the top floor of the main house. It is a simple good value single room that gets the early morning sun.
The Villa Room has its own balcony with views over the city. Guests staying in the main house have their breakfasts included in the rates.
Free wireless broadband internet is available in each room.
All water on the property is filtered. Fruits, greens and herbs from our gardens are organically grown and for shared use.
If you like something different, something with quality that's also quirky, somewhere peaceful yet in walking distance of all that counts in this town such as arts, crafts and good food, then make Joya your base for your adventures in and around Nelson.
Haere Mai!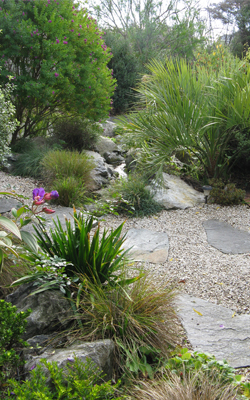 "Marvellous location for a truly needed relaxing weekend. Lovely place to wake up in and stroll to the city. Breakfast was a treat."
"If you want to chill and relax in amazing surroundings and comfort, while still being within walking distance of what's happening in Nelson you need to stay here"