Bed & Breakfast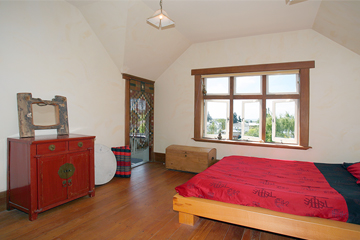 "Furnishings were comfortable, with a quirky Asian theme, the bathroom spotless. Paulina, our host, was as friendly and generous as you could hope to find and her hospitality lifts this from a very good B&B to a very special one."
– Jennifer N.
The Villa Room with its own private balcony is on the top floor and offers wide views over the city, the hilltops, and a glimpse of sea. It has wooden floors, a handcrafted queen-size bed with a New Zealand made futon mattress, and antique oriental furniture.
The Den, also situated on the top floor of the villa, is an ideal refuge for the discerning solo traveler. This single room has a broad desk, a comfortable 90 by 200 single bed and like all other rooms, complimentary internet.
A shared bathroom is a few steps away on the same corridor. Breakfasts are served on the first floor or on the main deck overlooking the gardens.
Let us know in case you'd like us to assist organising tours and trips. We have a 'handout' for interesting places to go that are a bit off the beaten track but can certainly assist you with bookings for trips to the Nelson Lakes, Kahurangi, and the Abel Tasman. We only work with the best of tour companies such as Wilson's.
When you are 'backpacking' or have quite a bit of luggage, and get here by bus, do inform us in time. Generally we'll be able to do a bus pick-up.
Rates $ 165 Villa Room, The Den $ 95.
Booking directly through this site rather than through one of our corporate affiliations is appreciated.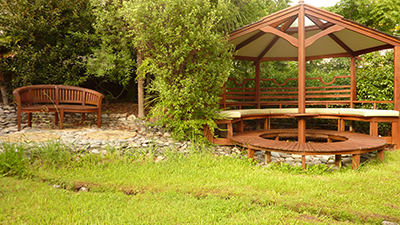 "Outstanding location, fantastic value, home away from home, going the extra mile, immaculate."
– Pita Te Tau O Te Rangi
"High rating in every respect: comfortable bed, spacious room tastefully decorated, private balcony overlooking the
garden, delicious breakfast and outstandingly helpful host."
– Serenet