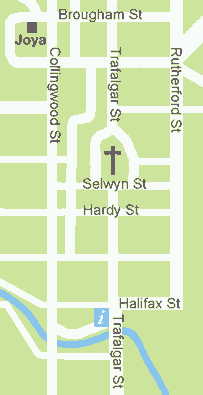 Directions from the North (Picton, Blenheim, or the East Coast):
If you have the time take the Queen Charlotte Drive from Picton, which is a windy road but has the nicest scenery.
When you drive into Nelson, go straight to the City Centre via Trafalgar Street.
Drive towards the Church Steps, go left at the steps into Selwyn Place. Turn right into Collingwood Street.
Drive uphill and as it bends to the right, turn left again into Brougham Street, Joya is a little way down on the left.
From the airport:
The airport is just outside of town, about a 15 minute drive. Leaving the airport you are on Trent Drive.
Turn right into Quarantine Road and follow the directions to the Town Centre.
There are two options, left at the main roundabout takes you along the Waterfront (then follow directions above) or straight-on, the direct route, along Waimea Road.
Keep going straight, past the hospital and the school grounds of Nelson College.
Turn right at Van Diemen Street, there is a small petrol station at the corner with a red roof.
Follow Van Diemen until it bends round to the left into Trafalgar Street, then turn right into Brougham Street.Go straight on, cross Collingwood Street, and you'll see Joya a little way down on the left. View on
Google maps